Ron grew up in Elkhart, IN the band instrument capital of the world in a family of eight. Ron's father was an avid musician & vocalist and as a result, most of his siblings were musical as well. In high school he had the opportunity to play with world-renowned jazz musicians as a part of the school jazz band. He also performed with numerous local rock and progressive rock bands during this time. After high school Ron continued to perform locally while working days in trailer factories building mobile homes, motor homes and van conversions.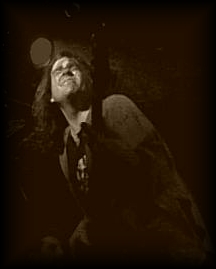 During these years Ron played hundreds of school dances, club dates, and parties. Convinced that fame and fortune were not to be found in Elkhart, he eventually moved to Chicago. There he met a talented guitarist, Joe Uthe, and together they started a power trio, Infinity, which performed in the Chicago area concert clubs, as well as promoting their own outdoor concerts in Northern Indiana, Southern Michigan and Chicago.

After 3 years, the band broke up and Ron moved to Colorado in pursuit of change. In Denver, Ron discovered that the music scene was very immature. Discouraged, Ron and a friend, Tim Keegan, decided to check out Dallas, TX.

Again, a change of scenery and surroundings. After several months beating the bushes in Dallas, the two met a prolific singer/songwriter named Darby Tipple. They put together a band and rehearsed for months, crafting Darby's material for performance. The band never performed publicly. Infighting caused the band to break up, though Darby can still be heard in the Dallas area. Ron returned to Denver again, having some roots in the area. This time he also began a career in Audio and Video products sales.

In 1987, Ron met a guitarist/songwriter named Jeff Paxton. Jeff was from LA, and had a great demo. Ron suggested a drummer he had recently met, Chuck Hohn. The trio searched around and found a singer and keyboardist to flesh out the band. In September of 1988, an event occurred which would alter the course of their futures. Ron and his girlfriend, Blair Gage, were in Aspen for a weekend away and met Paul Ahern, former manager of the one of the 70's most successful bands, Boston. Paul listened to the demo, which was titled Empire, and suggested that they contact music attorney Brian Rohan. Brian agreed to represent the band and encouraged them to relocate to the LA area. Ron then found a job with a speaker manufacturer, Acoustic Research. AR was in need of a sales rep in the LA area and were willing to pay for the move. Within a short period the entire band had relocated to the LA area.

They practiced and performed at showcase clubs in LA and Orange County. Capitol records had a good deal of interest in the band at one time, however, the A & R rep handling them left the label, and they were back to zero. In 1990, Blair moved out to LA and the 2 were married. Shortly after, the band broke up. Ron auditioned and networked endlessly over the next year and a half, and was eventually contacted by Frank Rogala, the singer for NC-17. Frank sent Ron a copy of the first NC-17 recording, "The Happiest Place on Earth". He was immediately taken with the bands sound and songwriting, and was working with them in short order. Over the next years the band worked to get the attention of the record labels and were repeatedly thwarted by the lack of access to A & R representatives from the major record labels.

On New Years Eve of 1994, Blair and Ron decided that they could no longer tolerate life in Southern California and made arrangements to move back to Denver. They left in April of that year and started a manufacturers representative firm, Sound Marketing Concepts, Inc. that represents Audio, Video, and Car Stereo manufacturers throughout the Rocky Mountains. Ron is building a studio in his basement and performs occasionally in the Denver area, as well as maintaining his relationship with the members of NC-17.

Ron can be contacted at rperron@soundmarketingconcepts.com